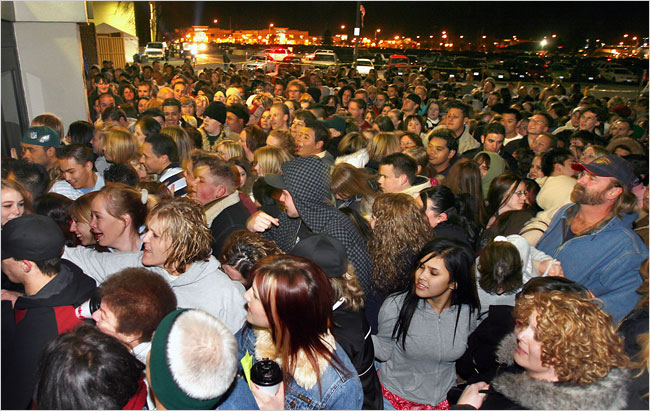 Somehow this just doesn't scream out "Good Times!" to me. Insanity! That's what Black Friday is.  At least to me.  Some people camp out (literally) for days in front of stores before Black Friday even starts. For what? To boast they saved a few bucks on a big-ticket item, or make the six o'clock news of their hometown.
For some people it's an Olympic event, for others it's a family tradition. To each his own.  More power to you.  I want no part of it.
Although, I did contemplate on going out for a few hours snapping photos and filming some events from Black Friday, but who was I kidding? My behind was sleeping in today.  How could I resist the warmth and comfyness of my couch and glow of my Christmas tree as I fell asleep on it (the couch not the tree) last night watching Holiday movies? It's a tradition of mine. More so now, since I live out-of-state and often spend Thanksgiving alone.
I digressed…
Anyway, I imagined in my mind that I'd go out with my camera, lurking incognito in a fashionable hat and sunglasses just waiting for the right moment to snap a photo or turn on my Palm Pre video.  Maybe I'd catch two ladies (whom would otherwise be respectable courteous shoppers on any other given day) fighting over the last Wii. Hair pulling and scratching their way through a cat-fight to give their child the most-wanted gift on their list.  Nothing screams Black Friday like coming home with the gift of your child's dreams and a black eye.  Hey, maybe that's where the word "Black" originated from!?
I couldn't even handle the crowdedness of Publix (super market) two days before Thanksgiving.  Why does everyone have to be a last-minute food shopper like myself?  I had cart rage.  I had a good mind to run a few people over with my cart who were so rudely blocking the already narrow isles with their shopping carts haphazardly parked, while they chatted with a friend they ran into. Thank heavens they were at least passing out wine samples, which made it somewhat more bearable.
The isles narrow enough as it is, now had holiday displays set up, taking up even more precious cart space for passing.  I mean, I thought I saw sparks fly off the carts as two people passed each other in opposite directions.  And I live in Florida…the retirement capital of the world!  Publix+Senior Citizens=slow and miserable shopping experience! Sorry, I know that's going to be me someday, but for now, I just need you to get the hell out of my way!
It got so bad I had to park my cart in a little corner of the produce section and run around and retrieve items to bring back to my cart.  I got so disoriented in the mass chaos that I almost stole some other lady's cart thinking it was mine.
Could you imagine if you did that to someone on Black Friday?  You'd probably be carried out of the store on a stretcher.  Although, it'd be fun to purposely do it and see people freak the eff out!
Look, I like the holidays just as much as the next person, and I'm not above taking some little old lady out to save a few bucks on a scarf that I thought was really cute. But with my impatience and crowd/cart rage, I think it's best I stay home and find other things to do. Like blog about Black Friday.
Where did Black Friday get its name anyway?